Loving It!
It's only been a month since the Divine Dog Wisdom Cards were weaned and off into the big world all by themselves, romping into many backyards and countries…and apparently into the hearts and minds of young and old-er.
Here's what some folks have already discovered in their play with the cards and guidebook:
"I'm working my way through your deck as a daily meditation. I just want to say I'm enjoying the process very much! It's a great way to get morning wisdom with a big smile or tug at the heart. I love the way the images and qualities they represent go together!"

–Julie L. 

"Today I drew the Victimhood Card. Feeling trapped or vulnerable. Perfect! I need to stop doing stuff and be more aligned with what's so. Slow down and rest. I love the support the card and guidebook gave me to do just that!"

–Erica F.
A teacher took the Divine Dog Wisdom Deck to class and after taking a few of the cards out of the deck which she thought might be too difficult for some of the kids to understand. She had them all pick a card at random and together they looked up the meaning in the guidebook.
The teacher related that,  "One of the really neat things was that one child picked the card with the theme of "Loneliness" and the child sitting right next to her picked "Belonging." That led to a very interesting discussion about the two concepts and the kids experiences with each of those. 
The kids loved them and asked if they could use them again. Of course, the answer was a hearty 'yes.'"
Barb Horn and Randy Crutcher, co-authors of the The Divine Dog Wisdom Cards, could not be more thrilled that the intention for delighting, uplifting and inspiring people to find their best wisdom and lives while served by these dogs on duty is now on its way to being fulfilled!
See more about what people think at Amazon.com where you'll see reviews and be able to purchase more of your own decks to use and gift to others.
Keep having a woofing good time!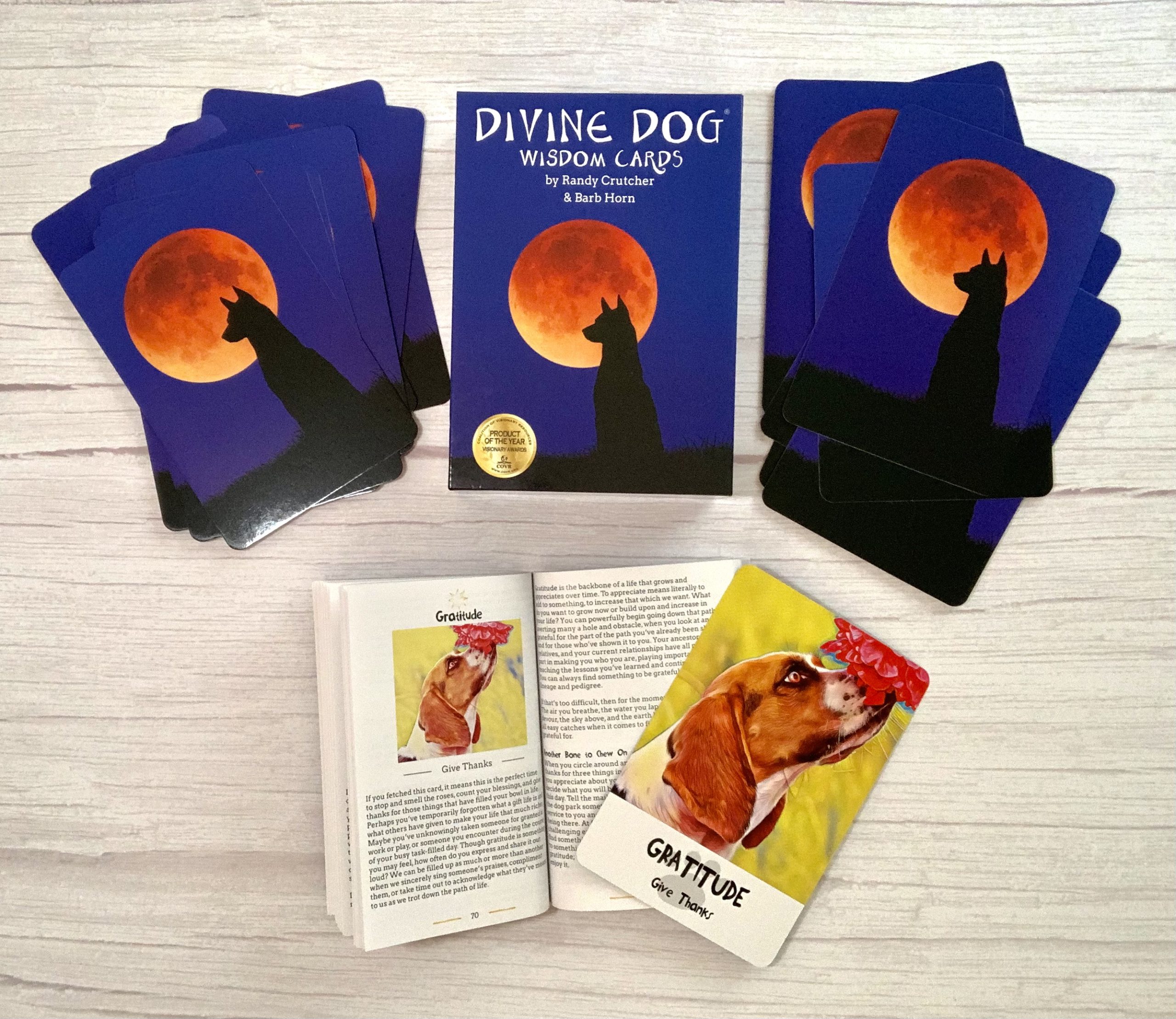 Get Your Paws on Divine Dog Wisdom Cards
Stay posted on more fun and current information from EnlightenUp: Follow us on Facebook.
Purchase the Divine Dog Wisdom Cards
Dive Deeper with the Divine Dog Wisdom
Get product updates, gifts and opportunities to participate in EnlightenUp's Levity and Inspiration for a Life Well-Lived.
More Paws to Reflect Posts