An Interview on Awarepreneurs
Barb Horn and Randy Crutcher interviewed by Paul Zelizer
You'll only want to listen if:
You're a friend of the co-creators of the Divine Dog Wisdom Deck and the forthcoming Cosmic Cat Wisdom Deck.
You love very personal, entertaining and informative interviews about people and their challenges to co-create a marketable product whose intention is transforming lives.
You yourself have or are wanting to create something and get it out to the world in a way that expresses who you are and your vision.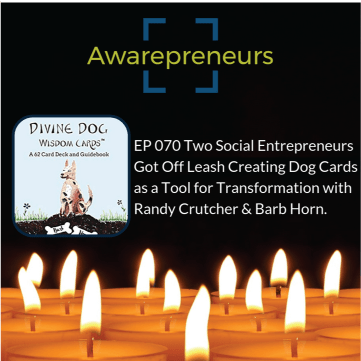 Get Your Paws on Divine Dog Wisdom Cards
Stay posted on more fun and current information from EnlightenUp: Follow us on Facebook.
Purchase the Divine Dog Wisdom Cards
Dive Deeper with the Divine Dog Wisdom
Get product updates, gifts and opportunities to participate in EnlightenUp's Levity and Inspiration for a Life Well-Lived.
More Paws to Reflect Posts