Copper Girl: The True Story of a Therapy Dog – A Review
By Susan King
OK, drumroll for our disclaimer. We love this new delightful and heart warming children's book about a certified therapy dog named Copper for multiple reasons.
One, the original watercolor art is mesmerizing. Two, the author has been an award winning teacher of young children and an award-winning artist. Three, well, we have a vested interest in getting this into as many children's and families lives as we can. You see, Copper is none other than one of the Divine Dog Wisdom Card Canine Council Members, another of the original dogs inspiring EnlightenUp's first beloved animal deck and guidebook.
From tornado and fire stricken communities across the US, to homes for the elderly and libraries for the young, Copper's presence and canine brand of love calmed, soothed, delighted and inspired many people. And at the end of 2018, Copper's work was done; she's now gone on to that great dog park in the sky. We want to pay tribute to Copper and the artist author who has given her eternal life in this charming story about the impact of one special dog in her own community and those beyond.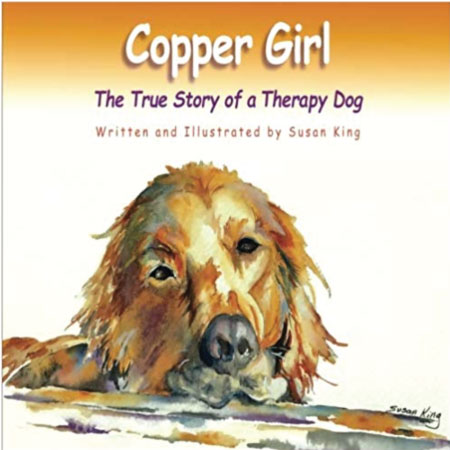 A definite four paws up rating from EnlightenUp!  
Get Your Paws on Divine Dog Wisdom Cards
Stay posted on more fun and current information from EnlightenUp: Follow us on Facebook.
Purchase the Divine Dog Wisdom Cards
Dive Deeper with the Divine Dog Wisdom
Get product updates, gifts and opportunities to participate in EnlightenUp's Levity and Inspiration for a Life Well-Lived.
More Paws to Reflect Posts